Disclaimer: This post is sponsored by Hero Elementary on PBS KIDS.
My kids LOVE slime! They like to squish it in their hands and add different colors to it. They also enjoy watching slime making videos to get new ideas. Not only is slime fun to make and play with, it's also a great tactile activity that involves lots of learning and science.

After having so much fun making our own bubble solution at home last month thanks to Hero Elementary, this time we decided use the "Make Your Own Slime" printable (courtesy of Science Buddies) to make a few different batches of slime. Watch the Science Buddies slime video here.

Have you and your children checked out the Hero Elementary show on PBSKIDS.org yet?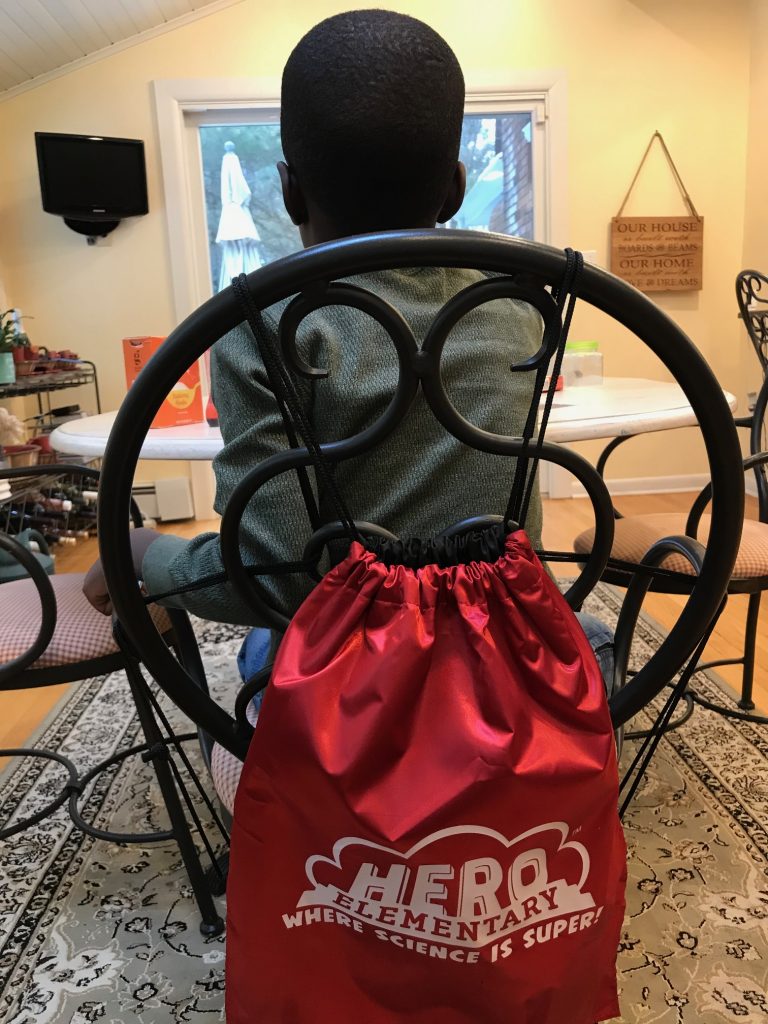 Geared towards children ages 4 – 7, Hero Elementary stars a diverse team of Super Students called Sparks' Crew: Lucita Sky, AJ Gadgets, Sara Snap, and Benny Bubbles, led by their quirky and enthusiastic teacher, Mr. Sparks. Together they help people, problem solve, and try to make the world a better place for everyone.

As a science geek, I enjoy this show because the science curriculum addresses crucial components of children's learning. It's important for children to be able to understand their ability to develop and test ideas, ask questions, predict, and observe. These skills are also known to contribute to learning in other content areas, such as literacy, language development and critical thinking. Hero Elementary also showcases character and social-emotional concepts such as kindness, empathy, and commitment to working together to solve problems.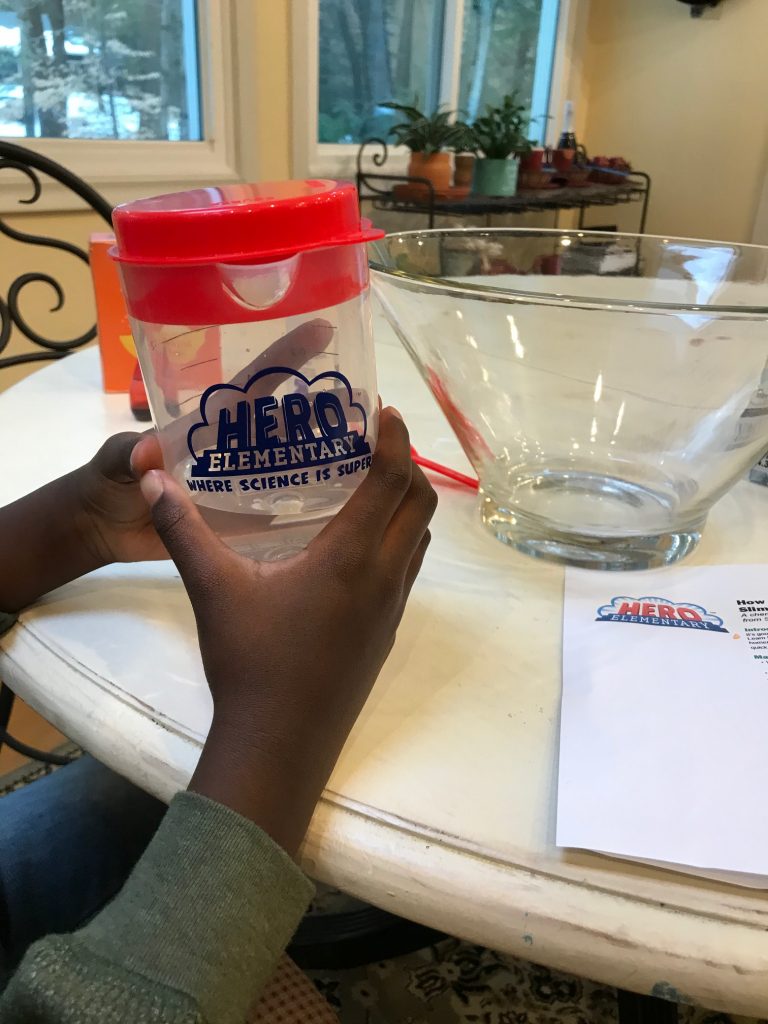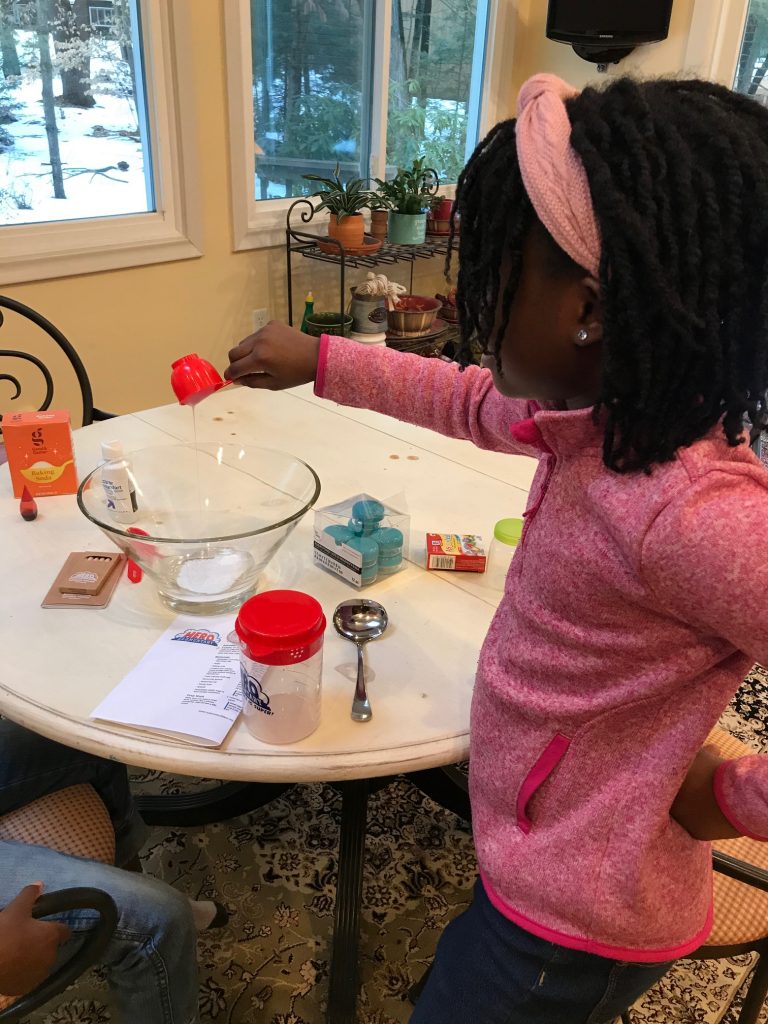 To make our own slime, we followed the easy step-by-step instructions listed on the printable and shown in the Science Buddies video. Our first batch of slime turned out okay. Once it settled for a few hours into our jars, the kids noticed we added too much contact lens solution. So, we tried again.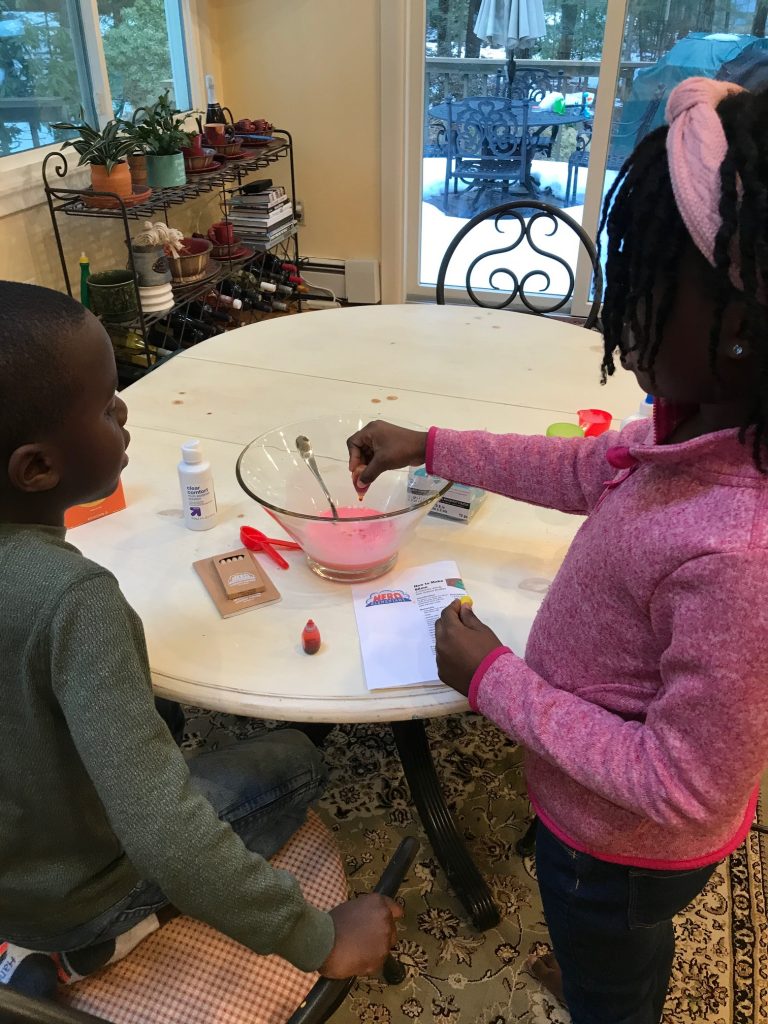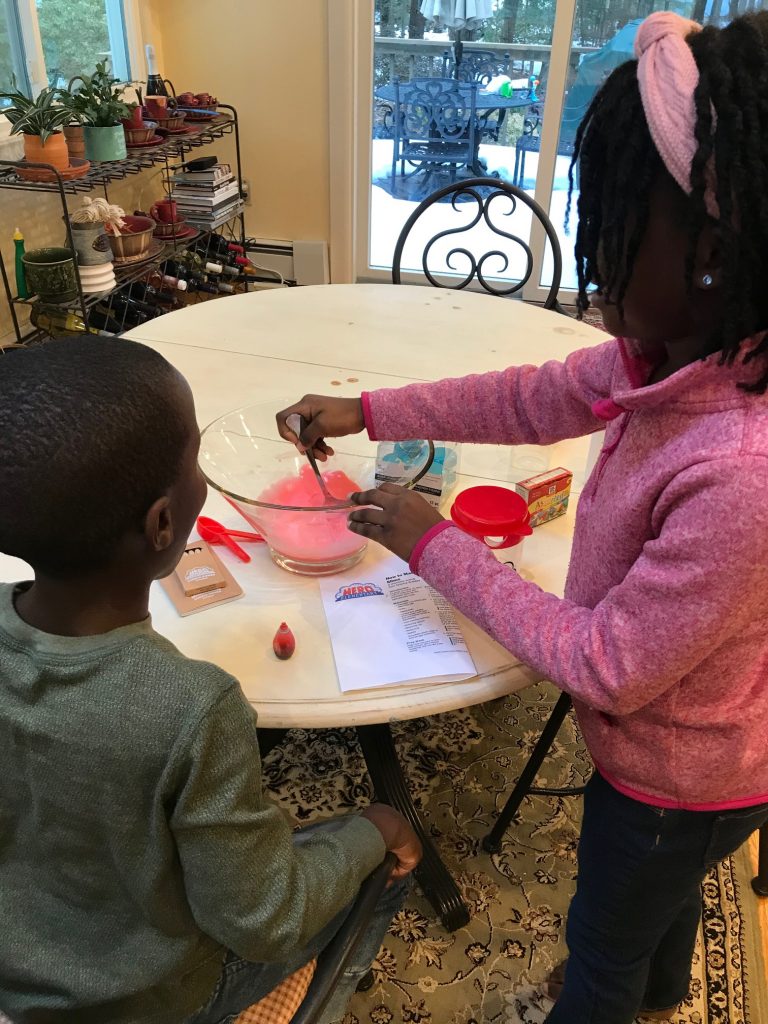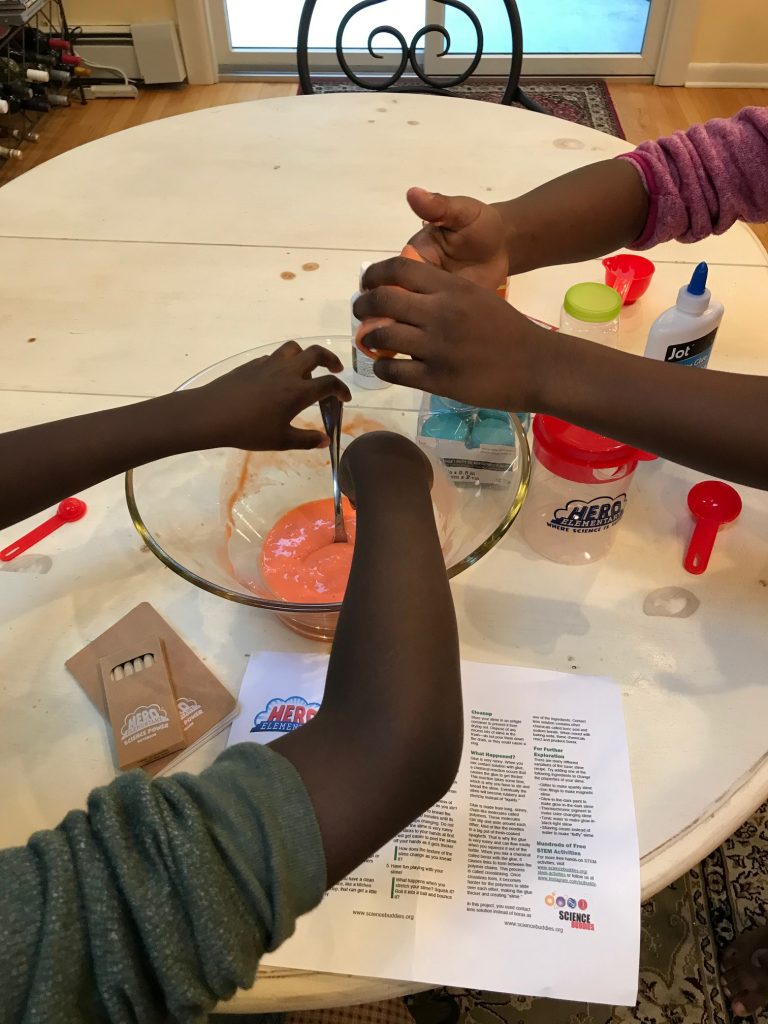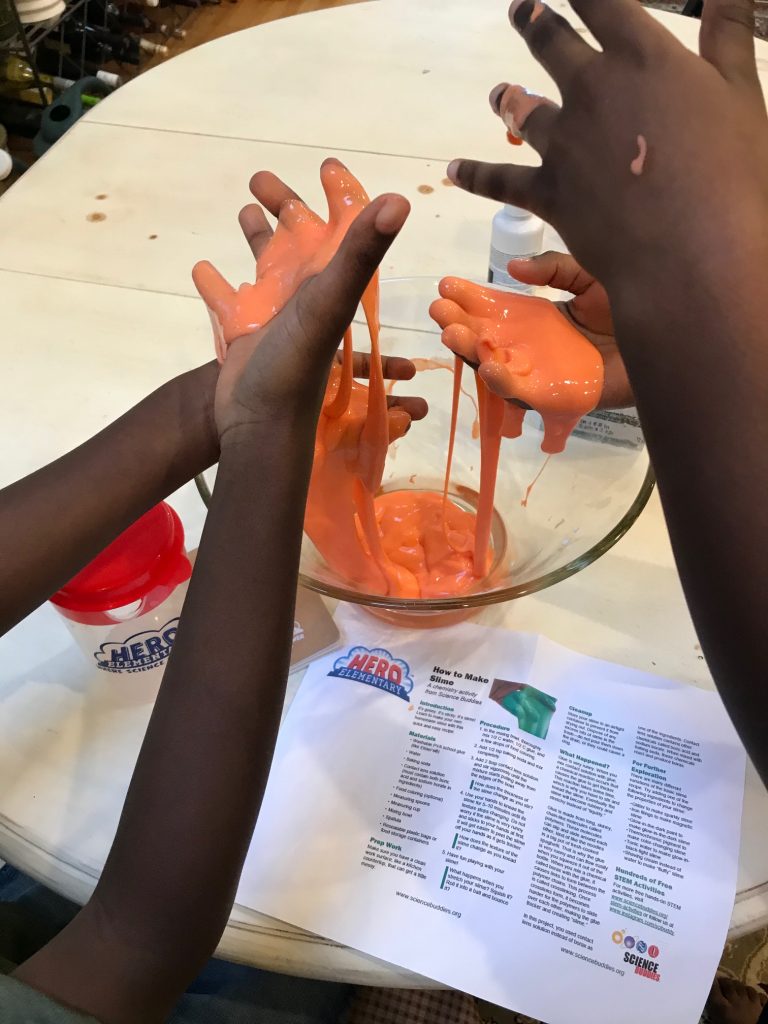 The second batch was much better and had the right consistency. It wasn't too sticky or too slimy and had a nice amount of stretch. It was interesting to watch the kids measure each ingredient so carefully because they wanted to get their slime "just right." Making slime is an awesome activity that uses scientific principles in everyday life to find solutions, answer questions and figure things out. As with anything you try in life, you may not get it right on your first attempt and that's okay. You always try again. Yes, even when making slime.
Watching Hero Elementary can help children embrace their "Superpowers of Science" by combining science and literacy to build powerful learning. We always enjoy applying the lessons learned on screen at home.
If you are homeschooling or if your kids are participating in distance or hybrid learning, Hero Elementary can be used to supplement core curriculum and extend science lessons into real life. Give it a try!

You can watch Hero Elementary on PBS KIDS. Check your local listings for showtimes or watch anytime on PBSKIDS.org or on the PBS KIDS video app.
This post is sponsored by Hero Elementary on PBS KIDS.