Disclaimer: Thank you to Woodloch for providing me and my family with complimentary access to the resort. As always, all opinions expressed are my own.
Nominated as the number one all-inclusive family resort in America by USA Today, Woodloch has been owned and operated with pride by the Kiesendahl family since 1958. Woodloch is a beautiful four-season Poconos family resort nestled in a pristine mountain lake vacation setting. As their website states:

Their traditional warm hospitality has been nurturing and embracing the spirit of spending quality time with friends and family for nearly sixty years.
If you've followed the blog for a while, you may know our family takes literary road trips each year. This is a tradition we started in 2016 and it continues to be something we look forward to each year.

During our road trips we visit various family resorts or museums and then find the nearest local library or bookstore to visit as well. Our literary road trip series is always a hit and well received by our audience. Many people are eager to know the best libraries or bookstores in surrounding areas when visiting family-friendly locations.
Vacationing During a Pandemic?
Deciding to take a summer vacation in the middle of a pandemic was not an easy decision to make. With two small kids, safety and cleanliness were our two biggest concerns. Thankfully, Woodloch helped ease our minds with their Resort Responsibly initiative.
Upon arrival all guests have their temperature checked in the wellness check area. In addition, all guests (ages 2 and older) and staff are required to wear masks in all public places except when eating, drinking or swimming. There are plenty of hand sanitizing stations throughout the property and an array of socially distant activities. During our stay we felt very safe and welcomed by the staff and other guests.

You can read Woodloch's COVID-19 special statement here to see how they're handling their guests' safety during the pandemic.

Activities Galore at Woodloch
There is literally something to do at Woodloch for people of all ages. The best part? Since they are a four-season resort open year round, their activities change and adapt with each season.

Here are just some of the resort amenities:
Indoor Spash Zone (water slide and splash pads)
Indoor and outdoor heated pools + hot tubs
Miniature golf (one of our family favorite activities)
Archery
Bumper cars
Climbing wall
Bumper Boats
Lakeside activities
Indoor and outdoor playgrounds
Water Skiing
Tennis courts
Snow tubing (during winter)
Ice skating (during winter)
Exercise rooms and so much more!
All classes and activities must be booked in advance using the Woodloch App. This allows Woodloch to monitor and cap class sizes for social distancing. It also allows for proper sanitizing between guests. Also, by having a scheduled time we didn't have to worry about waiting in a long line causing the kids to get antsy. It was easy to just show up at our scheduled time and participate in the activity. Overall, our family thoroughly enjoyed all of various daytime activities and nighttime entertainment Woodloch has to offer.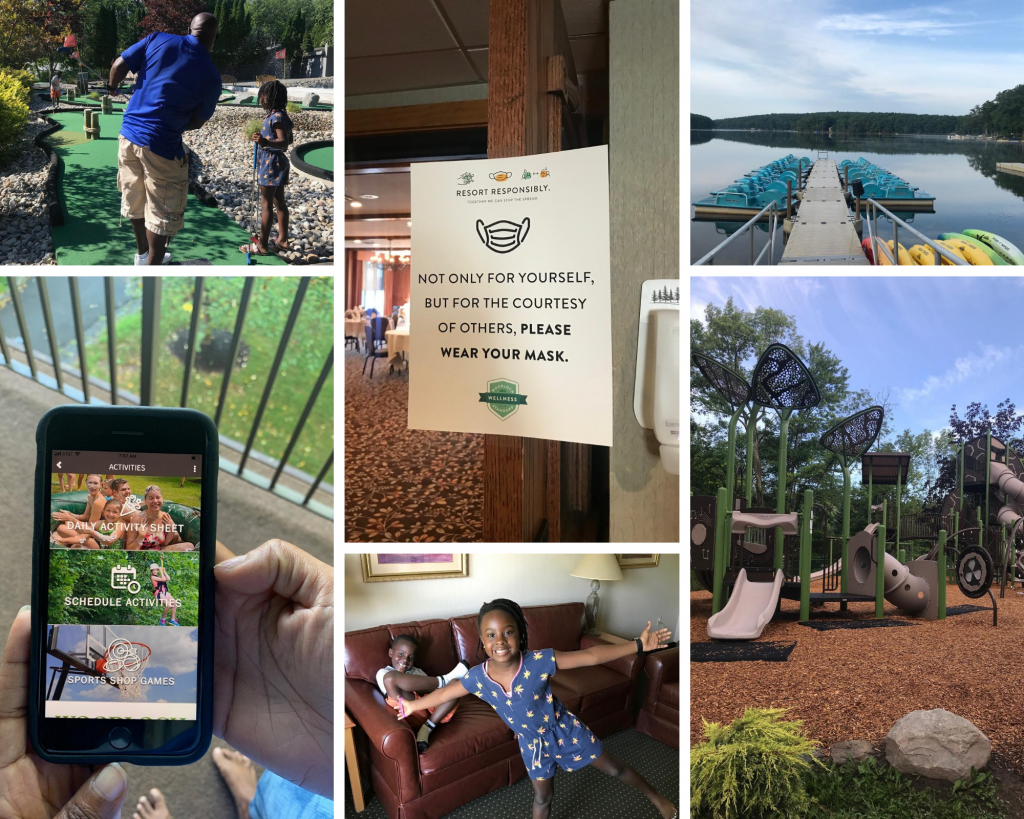 The Food
Let's talk about how GOOD the food was…yummmmm! Each meal we had was so delicious and tasty. They have meal choices, drinks and dessert for both adults and children.

We enjoyed the fact that each family is assigned the same table during mealtimes throughout their stay. We never had to worry about others sitting at our table (for safety reasons) when it was time to eat breakfast, lunch or dinner.

If you don't feel comfortable eating in the dining hall, you have the option have your food or drinks packaged as take-out to enjoy in your room or at one of the many outdoor picnic areas on the property. There are also quick bite ala carte options on-site at North Lodge Bar, Gigi's Coffee Shop, the Poolside Bar, and Lake Grill.

The Hawley, PA Public Library
We opted to explore and visit the Hawley, PA public library. The library is just a short 15-minute drive away from Woodloch. There you'll also find a local park, playground and walking trail right next to the library.

The children's librarian was kind enough to share their outdoor art storytime trail with us which was so much fun! She read the book The Little Engine that Could and at each character on the art trail we had to try and figure out the riddle before moving on to the next one. If you're ever in the area, be sure to visit and support this quaint library. I was pleased to see so many diverse children's books prominently displayed on their bookshelves.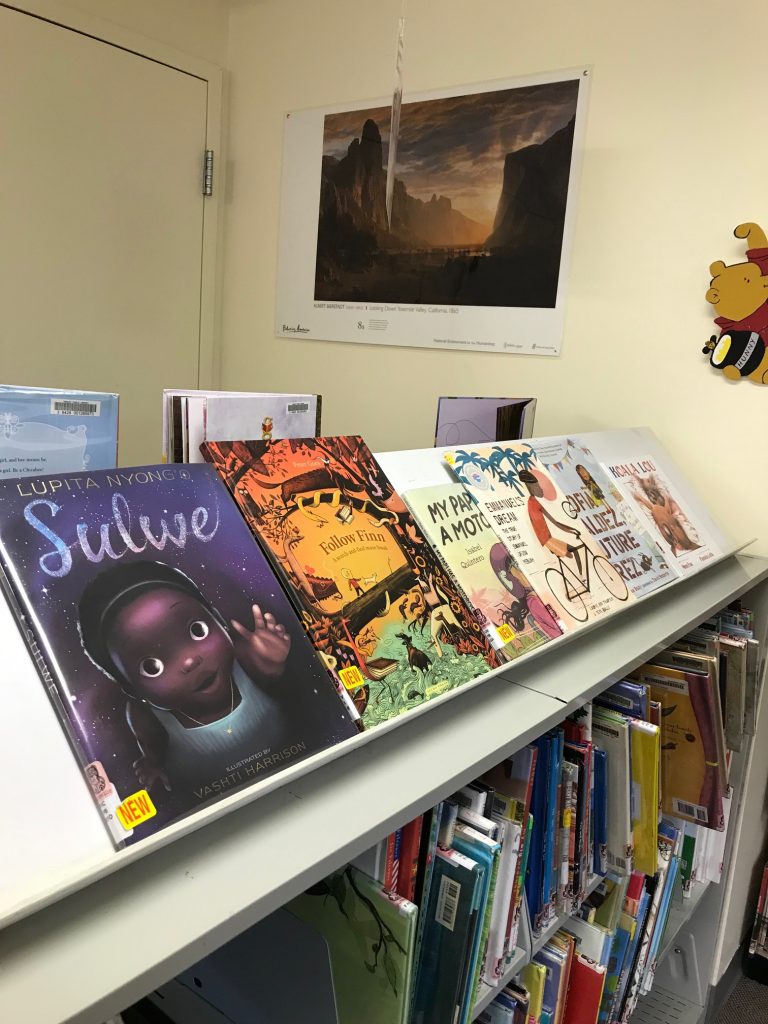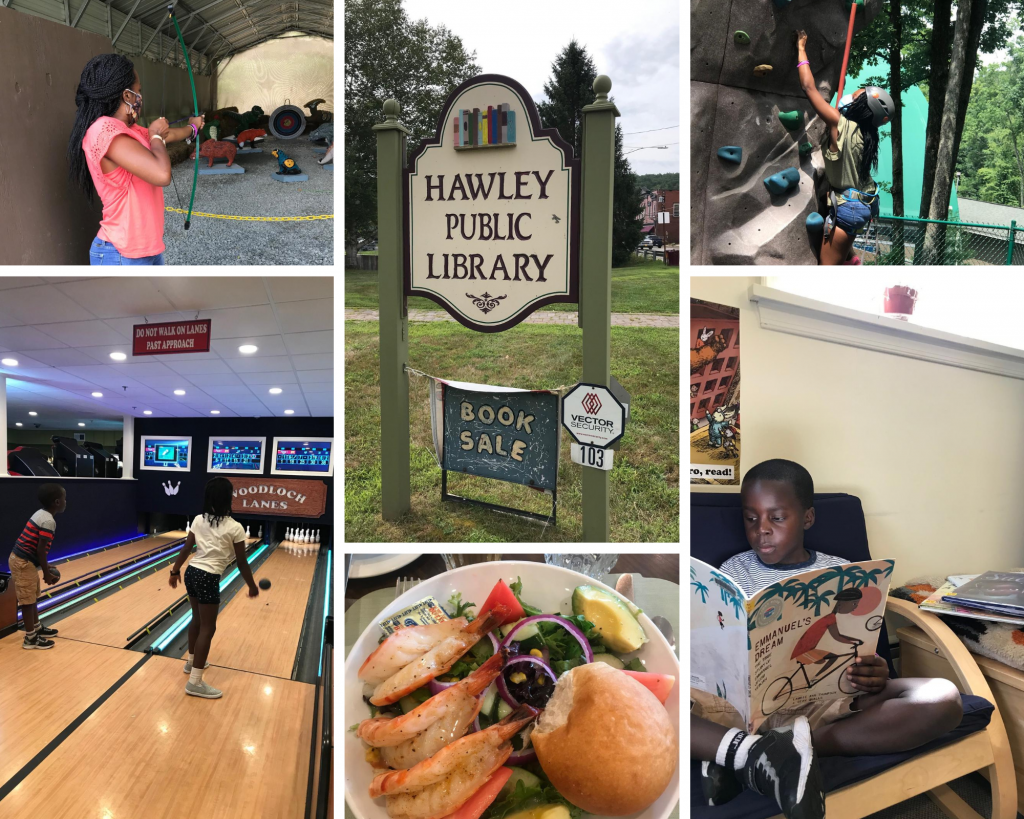 I cannot recommend Woodloch more! Visit at least once to experience all the resort has to offer for a fun family adventure. Yes, even during a global pandemic. You won't regret it!
Ready to head to Woodloch for your next family trip? Head to their website to book your adventure! Also, be sure to help Woodloch win the title of Best All-Inclusive Family resort for the second year in a row – cast your vote for them HERE.