Have you read any of Brandy Colbert's books yet?
In March 2020, Brandy Colbert will release her middle-grade debut, THE ONLY BLACK GIRLS IN TOWN – a powerful story (on Apple Books' Most Anticipated Middle Grade Reads of 2020 list) about the only two black girls in town who discover a collection of hidden journals revealing shocking secrets of the past. A master at writing literary, contemporary novels with a commercial appeal, Colbert has quickly become a go-to author for stories with strong elements of diversity and intersectionality.
I recently had the pleasure of asking Brandy a series of bookish questions in an interview. Check out the highlights below including all of her book recommendations and upcoming tour dates.
What was the inspiration for your forthcoming book, The Only Black Girls in Town? What messages/lessons do you hope people come away with after reading it?
As a person who grew up as one of very few black kids in their school in a predominantly white town in the Midwest, I think a lot about kids who are going through the same thing now. One day I thought about what would happen if you were pretty much the only black girl in a tiny town, and then suddenly another black girl moved in across the street. I really wrote it for me and people who've been in or are going through that experience, because it's such a specific situation to be in. I was so relieved when I got a bit older and realized I wasn't the only one who'd grown up like that. I never write books with a message or lesson in mind, but I do hope that people who don't have that experience will think about what it would be like to feel so isolated, and yet on display at the same time. Family also plays a big part in the story. I hope people will open their minds to all the different types of families that are out there.
Have you always been interested in reading and writing?
Yes, they've both been a big part of my life since I can remember. We always had a lot of books around the house when I was growing up, and we took regular trips to the library and bookstore, so I was always surrounded by literature. And I've loved storytelling from a young age, too; I've been writing since the age of 7.
What were some of your favorite subjects growing up in school?
I loved English and spelling, and I guess I've always had the same interests, because I grew up to be a writer, and a copy editor for magazines and books. I also really loved my journalism classes in high school; I worked on the yearbook staff and then went on to earn a journalism degree in college.
What are some of your must-have adult books for a home library?
Anything and everything by Colson Whitehead, Zadie Smith, and Curtis Sittenfeld; Sing, Unburied, Sing by Jesmyn Ward; Stamped From the Beginning by Ibram X Kendi; The Mothers by Brit Bennett; Fates and Furies by Lauren Groff; The New Jim Crow by Michelle Alexander; An American Marriage by Tayari Jones; A Little Life by Hanya Yanagihara
Besides writing, what are some of your other hobbies or interests?
Like writing, I've been tap dancing since I was young, and I still love it. I also enjoy cooking, baking, television and movies, trying to keep my indoor and outdoor plants alive, and spending time with friends.
Do you have a favorite book that you have written? If so, what is it and why?
It's always hard for me to answer this question, because I truly love all of my books for different reasons. I would say maybe The Revolution of Birdie Randolph, because it was a real joy to work on from beginning to end. Readers seem to really connect with Birdie, and I love that a specific coming-of-age story about a black girl living in Chicago can mean something to so many people.
Any advice for aspiring writers and authors?
Shut out the noise, keep your head down, and do the work. Don't compare yourself to other writers. Remember that publishing is a long game. These are things I still have to remind myself of regularly; publishing is not an easy or predictable business.
Name an adult book that:
a) Inspired you
Drinking Coffee Elsewhere by ZZ Packer
b) Made you laugh out loud
Trick Mirror by Jia Tolentino
c) You recommend to others often
Dominicana by Angie Cruz
What books are on your nightstand or e-reader right now?
Too many! I never used to read multiple books at once, and now I can't seem to stop. I'm currently reading The Yellow House by Sarah Broom, and the ones on my nightstand right now are Florida by Lauren Groff, Heavy by Kiese Laymon, Bloom by Kevin Panetta and Savanna Ganucheau, Damsel by Elana K. Arnold, and Daisy Jones & the Six by Taylor Jenkins Reid.
Are you working on any special projects that you want to share with others?
My next book, The Voting Booth, will be out July 7, from Disney-Hyperion. It's a YA novel set over the course of 12 hours, on Election Day, from the dual points of view of two black first-time teen voters, Duke and Marva. It covers a lot of topics, from grief to voter suppression to activism, and I'm excited for people to read it! I'm also currently working on a few projects that I hope to be able to talk about soon.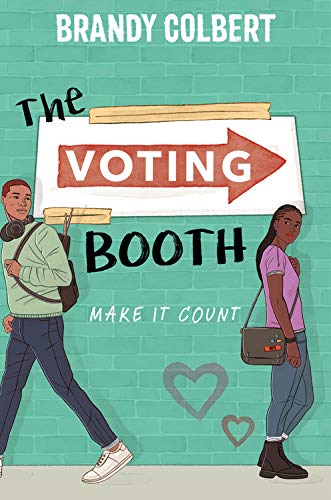 How can people get in touch with you on social media or on your website?
My website, brandycolbert.com, lists all of the different people to contact if someone needs to reach me, or they can fill out a submission form that goes directly to me. I am also on Twitter and Instagram, both at the handle @brandycolbert.
Brandy Colbert's 2020 Tour Dates
March 7: BAM! Book Festival (West Palm Beach, FL)
March 13-14: Tucson Festival of Books (Tucson, AZ)
March 15-17: Children's Literature Festival (Warrensburg, MO)
March 21: Skylight Books (1818 N. Vermont Ave, Los Angeles, CA) at 3:00 pm
In conversation with Nina LaCour (author of We Are Okay and Hold Still)
March 26: Brazos Bookstore (2421 Bissonnet Street, Houston, TX 77005) at 6:30 pm
In conversation with Liara Tamani (author of Calling My Name)
March 29: East City Bookshop (645 Pennsylvania Ave SE #100, Washington, D.C.) at 5:00 pm. Brandy will also be in conversation with Leah Henderson (author of One Shadow on the Wall).
March 30: Loyalty Bookstore (823 Ellsworth Drive, Silver Spring, MD) at 5:00 pm. Brandy will also be in conversation with bookstagrammer @SpinesVines.
March 31: Books of Wonder (217 W 84th St, New York, NY) at 6:00 pm
In conversation with Karyn Parsons (author of How High the Moon)
April 16: Vroman's Bookstore (695 E. Colorado Blvd, Pasadena, CA) at 7:00 pm
In conversation with Mary Cecilia Jackson (author of Sparrow)
April 18-19: The Los Angeles Times Festival of Books (Los Angeles, CA)
June 6: Bronx Book Festival (The Bronx, NY)
June 7 | 10:30 AM The Center for Fiction 15 Lafayette Ave. Brooklyn, NY
In conversation with Renée Watson (author of Ways to Make Sunshine)
June 7 3:00 PM Bank Street Bookstore 2780 Broadway New York, NY
In conversation with Renée Watson (author of Ways to Make Sunshine)
About Brandy Colbert

Brandy Colbert is the critically acclaimed author of the novels Pointe, Finding Yvonne, The Revolution of Birdie Randolph, and Stonewall Award winner Little & Lion. Born and raised in Springfield, Missouri, she now lives and writes in Los Angeles.