The wait is over!  After two months of being on hold at my library, a book I've been wanting to read to the kids finally arrived two days ago.  It did not disappoint.
If you have ever misplaced your underwear, you'll understand Polar Bear's terrible predicament in Polar Bear's Underwear by Tupera Tupera.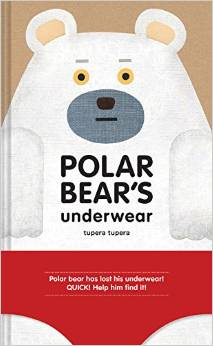 Polar Bear and his trusty friend Mouse set out to find his missing underwear. During the search, Polar Bear and Mouse find several pairs of underwear. Each time, Mouse asks Polar Bear if they are his. Each time, they belong to another animal friend. Readers are asked to take a guess as to whose underwear is peeking through the underwear shaped die cuts.
My kids get a kick out of guessing, then seeing the zebra's striped undies, the butterfly's teeny, tiny underwear, and the pig's tasty treats printed underwear. When a plain white pair is spotted, Polar Bear and Mouse are happily surprised, and you will be, too! This is a fun lap book for one-on-one reading, and it's definitely a crowd pleaser!
Your turn:  Have you ever read this book to your little ones?