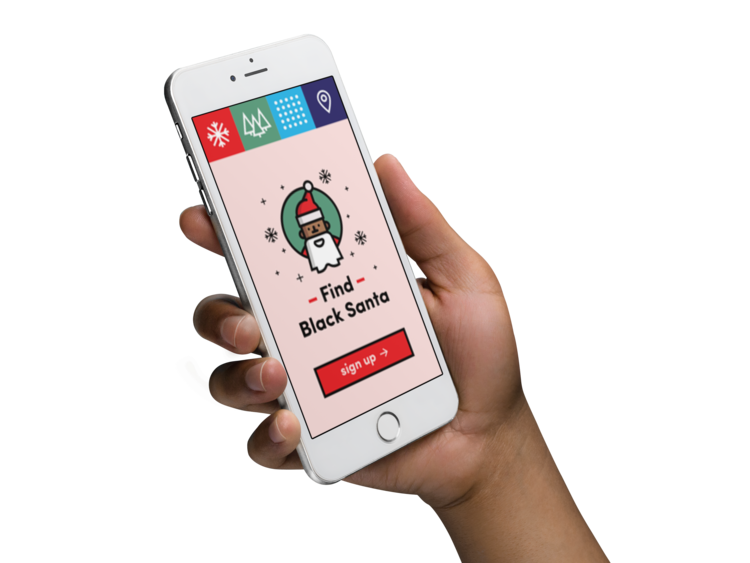 Tell us a little about yourself and your mobile app.  When was the app created?   
Hi! My name is Jihan Woods and I'm a mom, psychiatrist and the founder of Find Black Santa mobile app. I graduated from Hampton University in 2004 with a Bachelors in Finance. Upon graduating from Hampton University, I worked as a Financial Analyst before applying to medical school.  I completed medical school at Drexel University College of Medicine in 2013 followed by residency in General Psychiatry and fellowship in Child & Adolescent Psychiatry at University of Texas Southwestern. 
I spent a great deal of my training exploring the impact of race and cultural pride on the mental and physical health outcomes of youth. I also have a passion for bringing awareness to the lack of positive Black representation in media.  This idea was the premise of my developing Find Black Santa.  Find Black Santa is the only mobile-app of its kind designed to connect families with real Black Santa entertainment. I created the app in 2018 and is available in the App store and Google Play. 
What was the inspiration behind creating the app Find Black Santa?  
After having my own children (twin boys!), I realized the lack of Black representation in media especially during the holiday season. That's when my entrepreneurship journey began.  I utilized my expertise in child psychiatry and business savvy to create a mobile app affectionately titled Find Black Santa.  My inspiration were my twin boys and frustration with finding a Santa that represented our family. Studies show that children with a positive attitude about their own racial identity are more likely to thrive academically and socially. Experiencing a Black Santa is an important aspect of that. My goal is to connect families with Black Santas. My mission is to provide families with access to positive cultural imagery, diversify the meaning of Christmas and spread joy each holiday season.   
Is Black Santa married to Black Mrs. Claus? (LOL!):   
I don't' know you'd have to ask Santa! (lol) Santa is beautiful and magical and can be a representation of the uniqueness in all families.
Did you create the app on your own or did you have help?  What was the creative process like for you?
Yes, I created the app on my own. I'm definitely not a techie, nor do I have a tech background. It was fun! This process allowed me to utilize my creative skills. It involved a lot of research and time to figure out all of the ins and outs of developing a user friendly app. Aesthetically, I wanted festive colors with a modern twist; hence the pink!  Practically, I wanted users to be able to quickly get the information they needed so it was important to me that Santa profiles and events were strategically organized by state. 
How do you keep your brand and app top of mind with your audience throughout the rest of the year?  
Since we are in the midst of COVID-19 it's increasingly important to meet people where they are; therefore, we are transitioning to the virtual world of Christmas which has been a unique and fun experience.  This year I created an Advisory Board which has been a think tank to expand the brand. With their help, we launched "Hot Cocoa with Dr. Woods," a webinar series on all things, tech, culture, Santa and children's mental health.  
What messages do you hope to send to children and parents with your app?
It's important to me that people experience diversity in all aspects of their lives. Santa is one avenue in which families who celebrate Christmas can do this. 
What's next for you and Find Black Santa?
Find Black Santa has grown exponentially over the past 3 years. With 19,000+ downloads and thousands of subscribers and supporters, I hope to expand my reach beyond the mobile app within my educational webinar series "Hot Cocoa with Dr. Woods".  I also hope to grow my brand and eventually evolve into the go-to network and resource for Black-owned businesses. 
Anything else you'd like to share with us?  
In addition to the Find Black Santa App, supporters can visit our Holiday Shop and find festive apparel and accessories (including face masks!).
Where can people find you online?   
Instagram: @findblksanta  
Website: findblacksanta.com  
Email: info@findblacksanta.com  
Etsy: www.etsy.com/shop/FBSHolidayShop