Disclaimer: Our family was provided with a complimentary 5-week session of Go Girls! camp in exchange for an honest review. As always, all opinions shared are my own.
For the past four weeks, my daughter has been participating in a virtual summer camp called Go Girls! at Home. I'm so glad this camp provides so much enrichment to help keep kids busy, learning, and having fun — while practicing safe social distancing.
Go Girls! at Home has been teaching my daughter how to be a confident leader, the importance of building community and teamwork, the art of music, song and dance and so much more! It's a social and emotional camp specifically designed for girls and I have loved watching my growing girl blossom over the past few weeks. Bonus points for it being a Black woman owned business.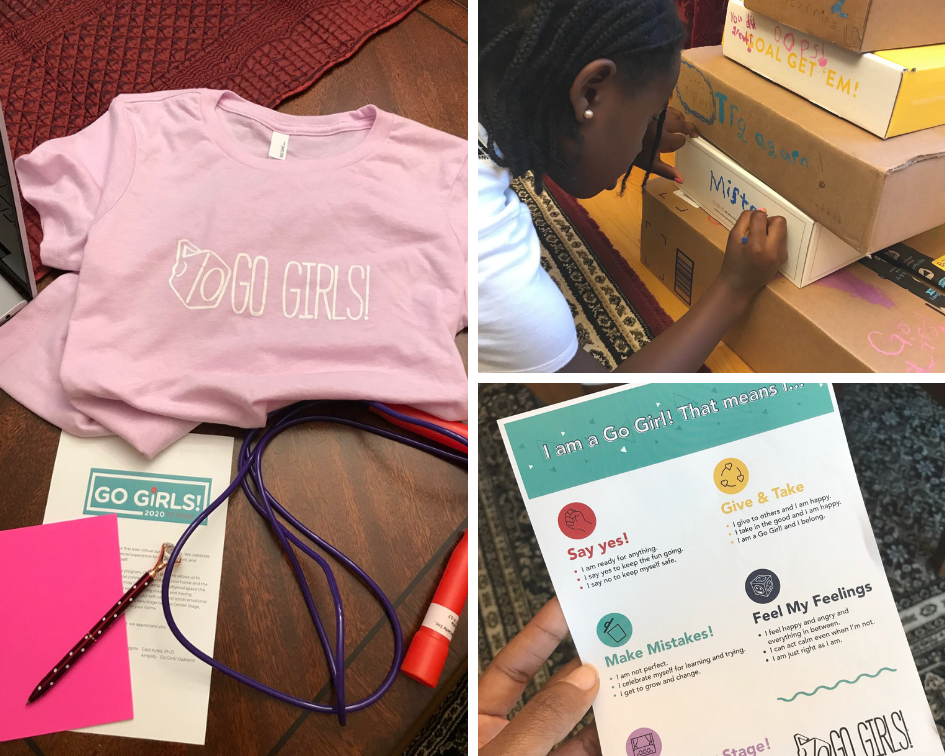 Go Girls! at Home is a virtual summer camp for girls and gender non-conforming kids ages 6-14 (rising 1st through 8th graders) to make art and media together – all while practicing the Go Girls! Culture Code, their highly effective social-emotional skills framework designed to help girls become their boldest, bravest selves.

As stated on the Go Girls! website, here's how the virtual camp works:
Go Girls! at Home virtual summer camp takes place inside of a Google Classroom. The primary learning will happen in 3 different formats:
Live large group meetings via Google Meet – at the beginning and end of the week, Go Girls! will come together for connection and celebration

Zoom and/or Video-enriched lessons led by talented Go Girls! teaching artists – Go Girls! will watch instructional videos whenever they want and complete the artistic projects at their own pace

Live small group meetings – Go Girls! are assigned to a small "family group" with other girls their age. Each week, the groups, led by a Go Girls! "Camp Mama," meet to build deeper connections and practice the lessons of the Go Girls! Culture Code.
My favorite part has been reinforcing how my daughter (and myself) have been able to apply to the Go Girls! Culture Code to her life (Say Yes, Give & Take, Make Mistakes, Feel My Feelings, Take Center Stage).
Each week has a new theme that follows the culture code. This week the girls are learning about feeling their feelings and emotions.
Have questions about this amazing virtual girls camp? Ask away in the comments.