This month's literacy expert is Sophie Helenek.  Sophie is an elite athlete, award-winning author, former banker, Everest summiteer, runway model, and mother.  Also, her daughter happens to go to the same preschool as my son – how cool is that?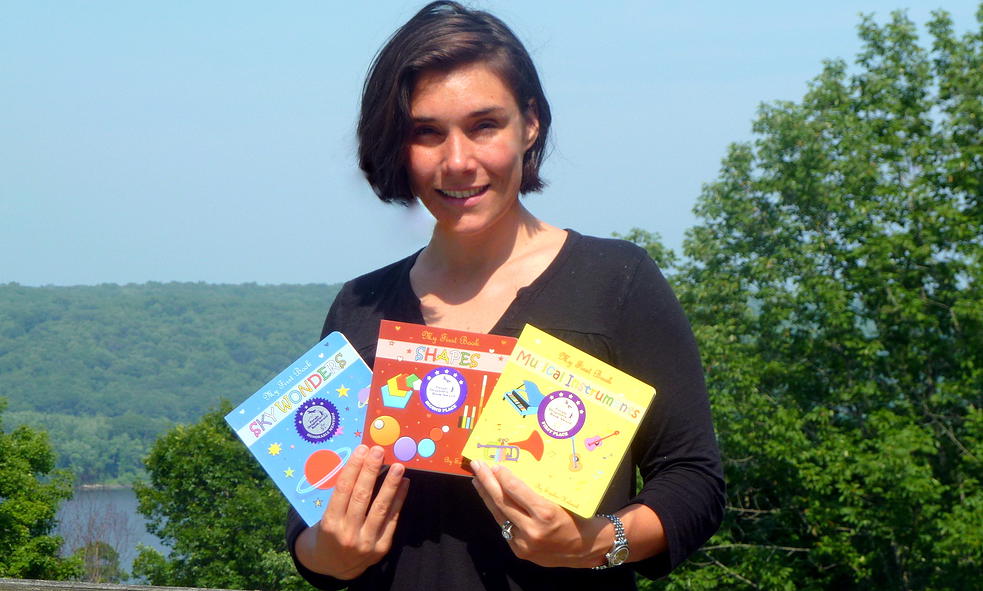 Please tell us a little about yourself and your background?
I was born in Guyancourt, France.  I've always had a passion for music, education, and sports.  At the age of 22, I obtained my Master's degree at La Sorbonne Business School.  In 2013, I became a new mom and embarked on the journey of writing a baby book series which includes four delightful board books Fruits, Sky Wonders, Shapes and Musical Instruments.  I am also a motivational speaker and panelist at different events around the world.  I am currently embracing my new career as executive coach and keynote speaker.
Please provide some insight on what it's like to be a children's book author.
As per my experience, it is not easy to be a children's book author mainly because everyone thinks they can do it. But it is far from easy. Writing a children's book is a tedious and challenging process which requires lots of research, great attention to details, and a mental made of steel! You are working on complex concepts that are expressed in "simplistic" ways. Such discrepancy often undermines your hard work and it can be very discouraging.
My inspiration
My inspiration was my daughter. When she was a small baby, I showed her an M.C. Escher book. She seemed to like the black and white spiral drawings. When I say "like," I understand you don't really know what is going on in an infant's head, but I could tell that something happened. I was surprised and started reading about how babies' eyes work, what they see, and why.
At birth, babies are very nearsighted; that is why they are interested in bold black and white shapes and high contrast patterns. Eager to learn more, I read bunch of studies on speech development, child temperament, and babies' milestones. Gathering all this information, I developed and designed My First Books series from a baby's perspective. I wanted to write an engaging book that promotes bonding and supports an infant's developmental growth milestones: vision, memory, speech, and social skills.
They are not just picture books or bedtime stories but rather activity books conceived to stimulate a baby's senses.
Here how My First Book series works:
At first, a baby will enjoy simple illustrations with black-and-white and high-contrast patterns designed especially for the very young to focus on.
As babies gets older, their brains learn to distinguish bright primary colors and will start identifying the illustrations with the words you read, which triggers their memory process.
Each picture is accompanied by a simple word that babies will love repeating and which helps their speech development.
The last pages show all the illustrations together, which also helps the baby's memory process.
My First Book series offers a special feature for toddlers, as they can write on the book with a white board pen, wipe it, and write again!

What tips and advice would you give to others who may be considering writing a children's book?
First you need an idea. Then, do your research and see if your idea makes sense, and if it could target an audience niche. Once you are getting ready to start writing, step back and ask yourself : Why am I doing it? And What do I really want to achieve with my book? Write down your answer, and keep it handy. It will be a good motivation boost going forward!  Please do not hesitate to contact me if you need advice.
What are some activities that you've done with your child to promote literacy?
I placed books everywhere, among toys, on shelves at her eye sight, on the dining table, in the car…. Books are part of her daily life. It is a bonding time, as well as a self-exploratory medium for her. She discovered she can turn pages, choose her books, "read" at her own pace, etc.
What are some of your must-have children's books for a home library?
I always encourage people to think out of the box and be open minded to your child interests and affinities. Some unknown authors wrote wonderful books which are not promoted by big publishing companies and therefore are stuck under the radar of the "must-have" children books.
Nevertheless, I personally love board books by Karen Katz, Where's Spot flap books, and Mother Goose.
Do you have any literacy rituals that you practice in your family?
I read her books every morning before or after breakfast, and every night before going to bed. I always give her a book to look at when she is in her car seat.
I also incorporate several types of books into my parenting: nighttime stories, which are mainly soft pastel drawing books that are calming; nursery rhyme books, which are more wordy and playful; and activity baby board books like My First Book series which are placed with all other toys.
Besides reading, what are some other things parents can do to set their children up for literacy success?
Don't hesitate to read in front of your child – before you know it he/she will mimic you reading.
If you could give parents one piece of advice about reading with children, what would it be?
It is never too early (or too late) to read to baby.
Parents play a key role in their child development by supporting their healthy physical, emotional, and developmental growth. Being a first-time mom my motherhood instincts were to love, bond, and nurture my child as well as to feed her active brain. I played and read a lot to her and she loved it since day one. It is never too early to read to your baby, despite their seemingly passive demeanor their brain is constantly at work absorbing information and generating new connections among brain cells.  Reading to babies appears to be an excellent nourishment to complete their brain development, a "brain food" as mentioned in Baby Read-Aloud Basics book.
Hardcover, Paperback, or e-book (when reading a book on your own)?
I love hardcover books. I don't like e-books, I love turning the pages and writing notes.

Fiction, non-fiction, sci-fi, romance, or some other genre (when reading a book on your own)?
I am scared very easily, so it is impossible for me to read a suspense or thriller book. I enjoy reading fiction and business/reference books.
Name an adult book that:
You really enjoy: Gabriel Garcia Marquez author of the marvelous book "One hundred years of solitude".  I also like more light hearted authors like Natalie Nothomb or Anna Galvalda.
You would recommend to others: The book series by Katherine Pancol
" Les yeux jaunes des crocodiles", "La valse lente des tortues" and "Les ecureuils de Central Park sont tristes le lundi"
What books are on your nightstand right now?
I did not realize how many books I read at the same time. I have two magazines on my nightstand, the Times, and the Atlantic ; a financial book: "The New Advisor for Life" by Gresham and two books in French "au revoir la-haut" by Pierre Lemaitre and "Un secret" by Philippe Grimbert.
Are you working on any special projects that you want to share with others?
I am working on a new board book series "Baby Babble" dedicated to promote speech development by introducing fun and engaging age appropriate sounds. The first book of the series will be released in spring 2016 "Baby Babble Ooo", which includes vocalization such as Ghosts say Boo, Cows say Moo, Owls say Ooo, as well familiar words and functional objects such as spoon and balloon.  Some videos will be added on the publisher website to guide parents in helping their child in the production of the sound Ooo.

How can people get in touch with you on social media or on your website?
Website: www.nurserybooks.net
Facebook: https://www.facebook.com/nurserybooks
Twitter:  @nurserybooks
Books available on :
Your turn:  Did you enjoy this post?  Are you interested in being featured?  Do you know someone who might want to be featured?  Feel free to let me know in the comments or send me an e-mail.