Do your kids own a dictionary?  Or are they becoming a thing of the past?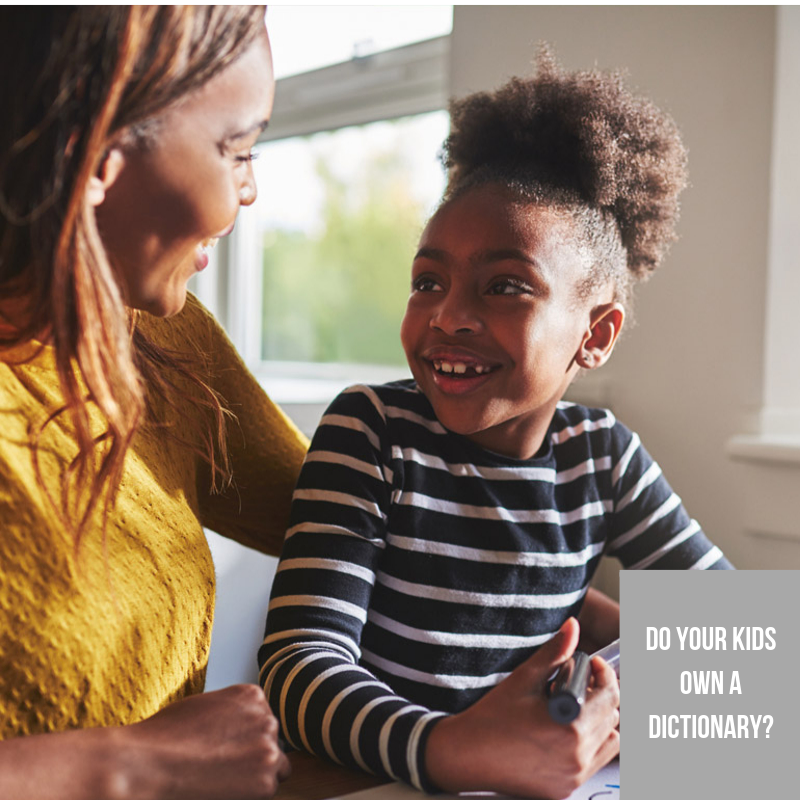 National Dictionary Day is October 16th is celebrated each year on October 16th.  The annual celebration of all things lexicographical also happens to be Noah Webster's birthday who was born way back in 1758.  Dictionary Day was founded to celebrate the achievements and contributions of Noah Webster – the father of the modern dictionary.
Today, Dictionary Day is largely an opportunity for school teachers to organize classroom activities encouraging students to build their dictionary skills and to exult in the joy of words.  Why not take the opportunity to learn some new words yourself or with the kids on October 16th?  It's fun. I promise.
The word that I learned today is "mucro."
Mucro \ MYOO-kroh \ noun 1. A short point projecting abruptly, as at the end of a leaf or the point of a sword.
Now, you can start using it in day-to-day language. See? Fun! Useful! Important! (Well, at least I think so…ha ha!)
Below are a few children's dictionaries, dictionary picture books or picture books about words I'd recommend.  Enjoy!
Dictionary for a Better World: Poems, Quotes, and Anecdotes from A to Z by Irene Latham & Charles Waters, illustrated by Mehrdokht Amini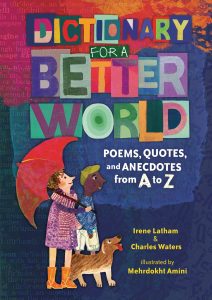 How can we make the world a better place? This inspiring resource for middle-grade readers is organized as a dictionary; each entry presents a word related to creating a better world, such as ally, empathy, or respect. For each word, there is a poem, a quote from an inspiring person, a personal anecdote from the authors, and a "try it" prompt for an activity.
The Dictionary of Difficult Words by Jane Solomon, illustrated by Louise Lockhart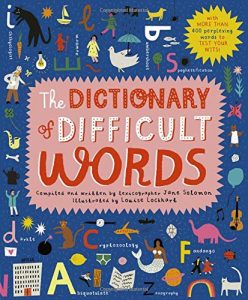 Find out all this and more in the Dictionary of Difficult Words. Test your knowledge with more than 400 words to amaze, confuse and inspire budding wordsmiths (and adults). All of the words featured in this book are difficult to spell, hard to say and their meaning is obscure to most children (and most adults!)
The Word Collector by Peter H.Reynolds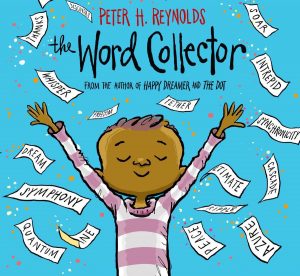 In this extraordinary new tale from Peter H. Reynolds, Jerome discovers the magic of the words all around him — short and sweet words, two-syllable treats, and multisyllable words that sound like little songs. Words that connect, transform, and empower.
First 100 Words by Roger Priddy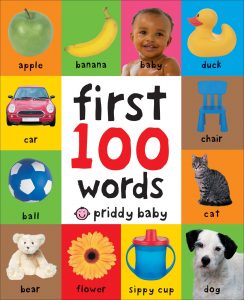 Your little one will soon learn some essential first words and pictures with this bright board book. There are 100 color photographs to look at and talk about, and 100 simple first words to read and learn, too. The pages are made from tough board for hours of fun reading, and the cover is softly padded for little hands to hold.
My First 1,000 Words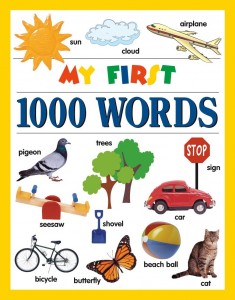 This book is a great tool for introducing children to new vocabulary words. Words are organized into fun categories, and each word is accompanied by a colorful and kid-friendly image. Sample sentences show how the vocabulary words are used.  Recommended for children ages 1 – 5.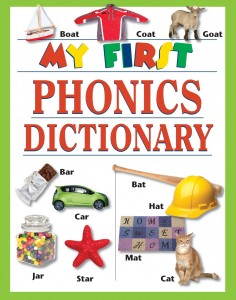 Children who are familiar with phonics will be a step ahead when learning to read. My First Phonics Dictionary is designed to make phonics easy and fun for beginning learners. The dictionary, recommended for children ages 4 and older, is an ideal tool for introducing sounds and the letters that correspond to them.
The 96-page dictionary begins with simple consonant and vowel sounds like b and e. More difficult consonant and vowel sounds, such as ch and ea, are presented in the final two sections. Each sound is accompanied by several common words that represent the sound, along with a colorful photograph or illustration of the word. A two-page review at the end of each section helps reinforce the sounds just presented. In addition, a sounds chart at the end of the dictionary lists the key pictures and key words used for each sound in the book.  Recommended for children ages 2 – 6.
My First English Spanish Dictionary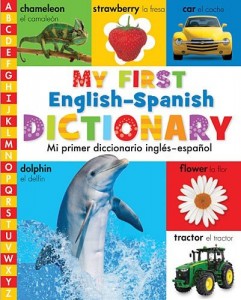 The Perfect Primer for early bilingual language development.  This book is divided into two sections.
1) Favorite Animals – like: Farms, Wild animals, Parks, Pets
2) Themes – like: Foods, Insects, Body, Transportation, Clothes
Great for Home Schools and Early learning!  Recommended for children ages 4 – 8 years old.
French-English Picture Dictionary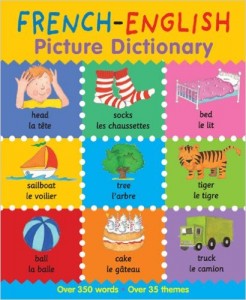 It's never too soon to start teaching boys and girls a second language, and this book presents pages filled with cheerful color pictures that help teach French words to English-speaking children in early grades. It presents more than 350 illustrations of familiar objects, with nine pictures on each page. Every picture is labeled with its English word, followed by its French equivalent.
Words are grouped according to themes, such as Sports, The Classroom, Fruit, Vegetables, Party Time, Weather, and many others.  Recommended for children ages 4 – 8 years old.
My First Dictionary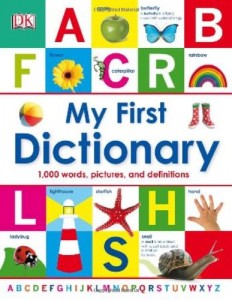 My First Dictionary is the perfect go-to reference. With one thousand entries and pictures, this first dictionary features nouns, verbs, and adjectives that are most commonly encountered by young children, and definitions that give the word's primary meaning in terms of a child's experience. Every entry has been checked to ensure it is up-to-date, and new words and pictures have been added to make sure it's relevant for today's kids.  Recommended for children ages 5 and up.
Merriam-Webster Children's Dictionary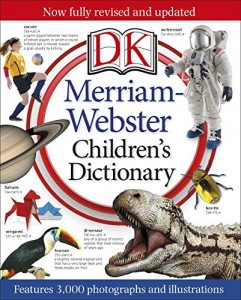 This revised and updated dictionary for elementary school children includes more than 93 new entries, from broadband and graphic novel to MP3 and smartphone — for a total of 35,000 words and phrases in all. Each entry is fully explained with its definition, usage, examples, and notes on spelling and punctuation.  Recommended for children ages 5 – 9 years old.
Math Dictionary for Kids, 4E: The Essential Guide to Math Terms, Strategies, and Tables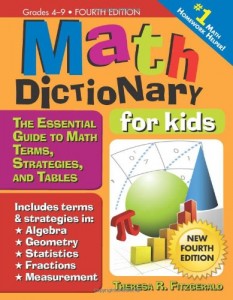 Equipped with this handy, updated reference of more than 400 full-color, illustrated definitions, children will be able to quickly find the definitions and illustrated examples that will enable them to solve many of the math challenges they face. Recommended for students in grades 4–9.
Merriam-Webster's Elementary Dictionary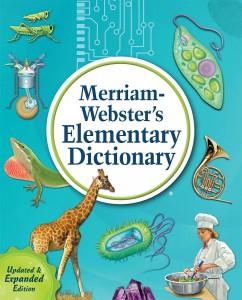 New features include pronunciation paragraphs for every letter, Greek & Latin word root paragraphs, and kid-friendly usage hints in full sentences.  Special sections include geographical names, signs and symbols, an introduction to Greek & Latin roots in English, a guide for writers, and a list of literary works used in the text.  This dictionary is designed to help students and educators meet Common Core Standards.  Recommended for children ages 8 and up.
Oxford Illustrated Children's Dictionary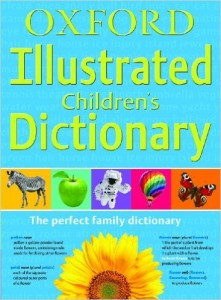 The Oxford Children's Dictionary boasts a number of features that make it an ideal reference work for young children. It offers crystal clear definitions, which include pronunciation guides for difficult words (such as guerilla or ricochet) and up-to-date example sentences that show how words are used in context. It has an attractive layout, with headwords in color and numerous illustrations on every page.  Recommended for children ages 8 and up.
Kid's Bible Dictionary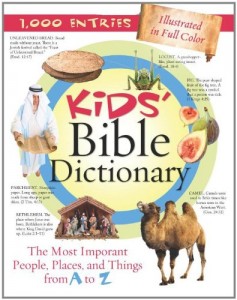 Bible dictionaries are a fantastic tool for better understanding scripture – and here's a dictionary especially for younger readers! The Kids' Bible Dictionary provides interesting, age-appropriate, often fun definitions for 1,000 Bible words and names. From Aaron, Abba, and Abomination to Zacchaeus, Zeal, and Zion, the Kid's Bible Dictionary covers all the key terms from the whole of scripture. Fully illustrated, with a colorful, kid-friendly design, Kid's Bible Dictionary is ideal for personal reading, Sunday schools, and home schooling.  Recommended for children ages 8 to 12.
Super Heroes: My First Dictionary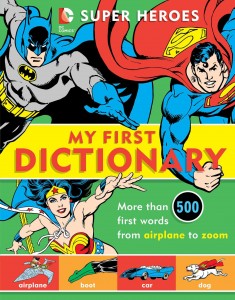 This sounds like it may be a fun dictionary for little boys who love super heroes and comic strips.  Introduce children to first words in this super-cool pre-school visual dictionary.
A combination of the 500 most popular words for preschoolers along with essential DC super hero names and terms, this unique visual dictionary makes it fun for kids to build their vocabulary and early and pre-reading skills. Superman, Batman, Wonder Woman, Green Lantern, the Flash–and other fan favorites–are fabulous guides to first words and the DC universe. The classic comic book art rounds out this entertaining, educational, great-looking package. Each entry includes an illustration, and an example of the word used in a sentence.  Recommended for children ages 3 and up.
Dictionaries provide children with so much information about words, especially when they're learning to read. They teach things like: pronunciation, correct spelling(s), word meanings, parts of speech, and syllable divisions.
Your turn: Did you find this list of children's dictionaries and picture book dictionaries to be helpful?  Do you feel dictionaries are becoming obsolete with the invention of online dictionaries?  Feel free to share in the comments.