There's a new "kid' on the block in my neck of the woods in Connecticut.  Boscov's department store opened its doors to the general public last Thursday, October 8th.
I had the privilege of attending the grand opening of their 44th store with a few other fellow bloggers who were also invited.  This was my very first blogger event so I was super excited to be there and have the opportunity to connect with other local bloggers, see the store, and get a glimpse of what other bloggers experience at these types of events.  Thanks again, Boscov's for the invite!
Ok, now on to the good stuff…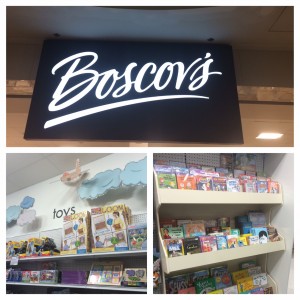 If you have never been to a Boscov's department store, let me tell you 5 reasons why you should totally consider going:
1. They sell books!
Of course, I had to mention books first, right?  Now, before you get your hopes up let me warn you they don't have a large selection of books available, at least not yet anyway.  However, if you're a Dr. Seuss fan, they have a nice variety of those types of books.  I also saw some books that would make nice baby shower gifts like the 1940's classic book Pat the Bunny (one of the best-selling children's books of all time) which was packaged nicely in a clear box ready for gift-giving.
2. They provide FREE gift wrapping throughout the entire year!
How many times have you gone to a store to buy a gift, and then turn around and go to another store to purchase either a gift bag, wrapping paper or tissue paper?  Too many times, right?  One of the great things about Boscov's is they offer this service to their customers FREE of charge throughout the entire year, not just during the holidays.  You can take your purchase directly to the gift wrapping counter to have them wrapped and receive quality customer service with a smile.
3. They have activities for children!
One of the many things that makes Boscov's unique is their commitment to serving local communities.  They have a long history of charitable programs and activities for children and adults. Throughout the year, Boscov's holds fundraising and awareness events for local community non-profit organizations in their community auditorium.  Some of their events may include: famous entertainers, fashion shows, face painters, balloon artists, and health and wellness classes.
4. They have a candy department in the store!
At Boscov's they make their own fudge and its served fresh everyday.  They also have a great selection of chocolates, candy and other sweet treats.
5. They have an exceptional bargain section!
I don't ever recall seeing a bargain section in a department store that actually has good, quality items.  I scored some really great deals in the bargain section like a 2 quart tea kettle for only $2.99!  Most of the items I saw started as low as $1.00 and went up to $9.99 or more.  Get a head start on purchasing your stocking stuffers now!
In addition to all of the wonderful things I've mentioned above, Boscov's also sells everything you'd find in any other department store like: brand-name merchandise including apparel, shoes and accessories for men, women and children, home furnishings, toys, cosmetics, and small appliances.
If you're one of my local subscribers who lives in Connecticut, I highly recommend stopping by to check out Boscov's at the Westfield Meriden Mall!  Right now until October 17th they're having a mega grand opening sale with blockbuster deals.  Plus, there are activities for children and you can register to win some fantastic prizes.  Also, Academy Award Winner Shirley Jones and her son Patrick Cassidy are performing alone or together in the community auditorium.
Other Upcoming Events

FASHION WEEK IN OCTOBER!
Sunday October 25 – Friday October 30
Come out to watch a fashion show with your family and friends!
HALLOWEEN EXTRAVAGANZA
October 31, 2015
Boscov's invites you and your family to join us for a day of Free Halloween Fun, make and take crafts, costumes parade, games and more!
Boscov's currently has locations in: Pennsylvania, New York, New Jersey, Connecticut, Maryland, Deleware, and Ohio.  Not in one of those states?  Don't worry, you can take advantage of their great deals by shopping online at boscovs.com
Disclaimer: I was invited to attend this event by Boscov's public relations and marketing team, however all views and opinions expressed are our own.
Your turn:  Have you ever shopped at Boscov's before?  Feel free to share in the comments.
My First Instagram Giveaway!
In celebration of the grand opening of the new Boscov's department store, I'm giving away a selfie stick I purchased from there this past weekend.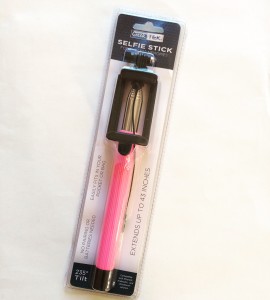 To enter, go to my Instagram page (@hereweeread), find the picture of the selfie stick, and then tag a book loving friend in the comments below the picture. I'll select a random winner this Thursday morning (10/15) at 6am Eastern time. Sorry, only open to US residents. Prize will ship by the end of this week.  Good luck!
10/16/2015 Update: This giveaway has ended.  The random winner chosen was Instagram user @usbornestagram.  Congratulations!