Bad Hair Does Not Exist/Pelo Malo No Existe! by Sulma Arzu-Brown, illustrated by Isidra Sabio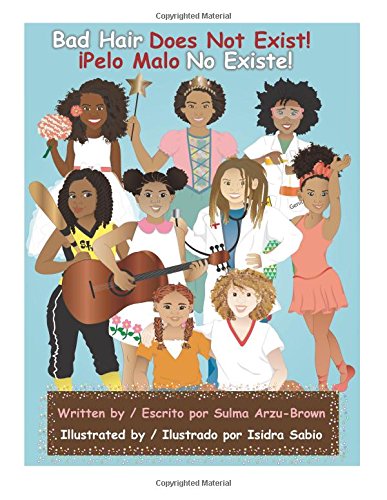 Synopsis
Bad Hair Does Not Exist!/"Pelo Malo No Existe is a book with an anti-bullying message that reinforces respect for individualism. Hispanic and Black children are exposed to the divisive and bullying term, "bad hair," within their own communities. The term "bad hair" or "pelo malo" is used to describe hair that is usually of curlier texture or of a thick and coarse density. This is irresponsible and often contributes to a child's low self – esteem, dividing both communities and families. The book's purpose is to empower all children by giving them alternate terms to describe their hair, and teaching them the importance of respecting one another's differences.
Background
For many girls with afro-textured hair, having self-confidence from a young age and seeing positive images related to their hair type is especially significant because it instills a sense of self-pride.  As parents, I believe it's our job to remind our girls to love their hair the way it is no matter what others may think or say.
It has been a long journey in the African-American and Afro-Latina communities with accepting and embracing naturally curly or kinky hair.  For reasons I will never understand, our hair is tied so closely to self-esteem and self-worth.  That's why I'm so happy many Black and Afro-Latina women around the world are finally learning to accept and embrace their natural curls and kinks.
I decided to start wearing my hair in its natural state six years ago and haven't looked back to having chemically relaxed hair since.  This feeling of freedom and empowerment undoubtedly translates to our children.  My three-year old daughter has told me countless times how much she loves her hair.
So when books like Bad Hair Does Not Exist!/"Pelo Malo No Existe that feature curly kids embracing their hair come my way, I'm thrilled to share them with you and my children!
Author Sulma Arzu-Brown is among the slew of women who are pushing the natural hair movement forward with books that embrace natural hair and its beauty.  In an attempt to empower little girls who are Black, Afro-Latina and Garifuna, Author and VP of Operations for New York City Hispanic Chamber of Commerce, Sulma Arzu-Brown, and illustrator Isidra Sabio have created this vibrant bilingual children's book.
Sulma Arzu-Brown grew up hearing the phrase "pelo malo" her whole life. The term, which means "bad hair" refers to naturally thick, curly hair in a non-chemically straightened state. It's a phrase commonly used in Latin America to refer to Afro-Latina women's hair in a natural state.
After Sulma's three year old daughter's babysitter straightened her daughter's hair without consulting her, saying that she had "pelo malo,"  Sulma knew she had to take action.  She decided she wanted to teach her daughter different ways to describe her hair so that she would learn to stand up for herself, her sister and educate other girls in the process.  Hence, that was her inspiration to write this book.
Reflection
The kids and I have read several books about natural hair over the past few years.  This is the first natural hair bilingual children's book that we've read though so it was a treat!  The book features girls with several different types of hair: curly, straight, short, long, dreadlocks, wavy and more.  The phrase, "We don't have bad hair because bad hair does not exist!" is repeated several times throughout the book in both Spanish and English.
I enjoyed reading this book with the kids.  They loved saying the phrase (or trying to say), "Pero pelo malo no existe!" (Because bad hair does not exist!)  The kids also really seemed to like looking at all of the colorful and cheerful pictures of the beautiful girls.  Of course, I love the overall concept and message of this book which is to love and embrace yourself and others.  The text is simple and repetitive, but I think it drives home the overall affirmative message really well.
This book can be used as:

An empowerment tool
A self-esteem book
A way to introduce your children to bilingual books
A call to action book – there are activities in the back of the book that invite older children to draw their hair, their family and friends
Connect with Sulma Arzu-Brown!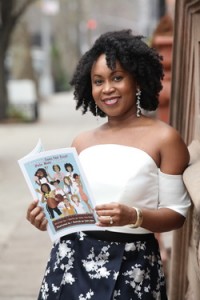 Website | Facebook | Twitter | Pinterest
Your turn:  Have you read this book with your little ones yet?  How do you empower your children to embrace their natural curls?  Feel free to share in the comments.